3D Printing MASK STRAPS "Ear Savers"
Published 2020-04-05 on Anjan's Homepage
The BC COVID-19 3D Printing Group has a list of designs they would like people to help print to ensure medical personnel are protected during the COVID-19 epidemic.
This post has two purposes:
Make anyone reading this blog aware of the initiative and assist with 3D printing if they can. You may have a group that needs help in your local area.
Share my tips for "mass producing" the MASK STRAPS "Ear Savers"
I am printing "Surgical mask ear saver" by sniffle from thingiverse: https://www.thingiverse.com/thing:4251460
NOTE: Before switching your workflow to this, please print a sample with these settings and confirm that these settings do not affect the functionality of your products. You should ask the #qualitycontrol channel on the BC COVID-19 3D Printing Group slack or the medical personnel you are making your products for.
To speed up printing, I have done the following two things:
Change layer height to 0.3 mm
Set the extrusion width to 0.7 mm.
These adjustments lowered the print time for each part from 33 minutes to 9 minutes on my creality ender 3 with the stock 0.4 mm nozzle using generic PLA.
Furthermore, I am printing 8 ear savers on one bed so that I don't have to scrape every 9 minutes. My printer is relatively new and I was lucky enough to get a flat bed. See figure below: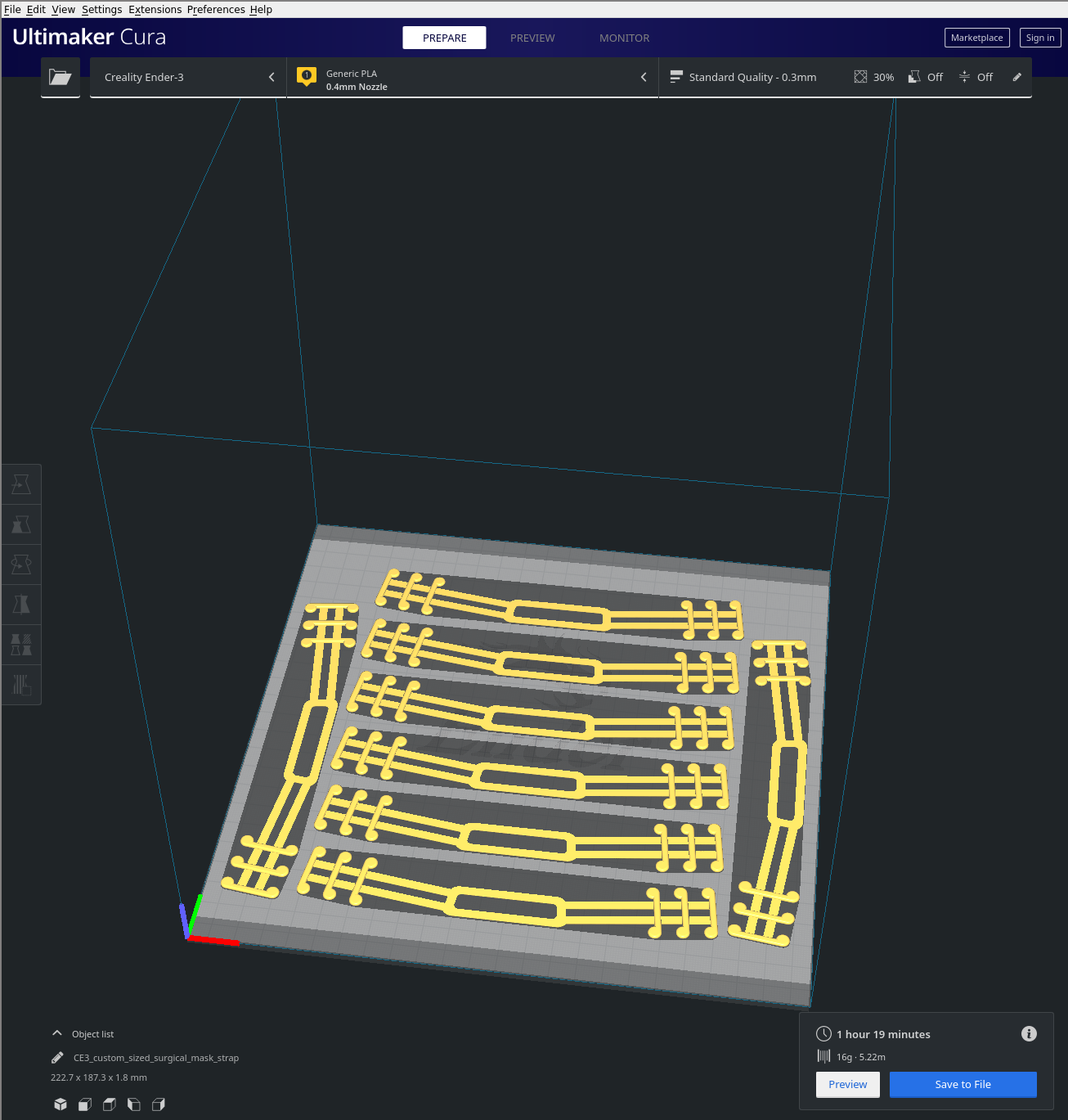 If you have a warped bed, you may not be able to print all over your bed like I have.
Hopefully this helps other makers looking for the most efficient model to print. Please ask your local 3D printing group or medical personnel about their needs before printing.
Have a comment on one of my posts? Start a discussion in my public inbox by sending an email to ~anjan/public-inbox@lists.sr.ht [mailing list etiquette]
Articles from blogs I follow around the net
These articles/blogs do not represent my own opinions or views.

Todo.txt More: Efficiently managing your todo list and your time Introduction I tend to get fairly enthusiastic when it comes to lists, even more so when there's a chance to optimise my productivity. The end of the year is a time for looking backward an…

via

Proycon's website

December 31, 2022

In their December update, Pine64 announced the PineTab2, which is the successor to their PineTab from 2018. As a major change, the PineTab2 upgrades the slow A53-based A64 SoC with an A55-based Rockchip RK3566, the same chip that was used for the Quartz64…

via

TuxPhones - Linux phones, tablets and portable devices

December 19, 2022

Over the last nine years I have written 300,000 words for this blog on the topics which are important to me. I am not certain that I have much left to say. I can keep revisiting these topics for years, each time adding a couple more years of wisdom and impro…

via

Drew DeVault's blog

December 1, 2022

Generated by openring